Click on a Community Below for More Information
Venice is a warm, friendly community in Sarasota County, not widely known and residents like it that way. Whether you like shopping in the unique stores of the downtown Venice Main Street district or prefer golfing, boating, fishing, or just laying on the beach, Venice and South Venice has it all. Venice is one of the few cities on Florida's west coast that is not separated from the Gulf by a barrier island.
There are a number of special surprises in the Venice area, such as the Venetian Waterway Park, a linear park that parallels both sides of the Intracoastal Waterway providing almost 10 miles of waterfront view for exercise and recreational use. Along the park is the recently restored Venice Train Depot at the northeast end. In its day, the depot greeted those who had the greatest impact on creating the Venice of today, including the Ringling Brothers, Barnum and Bailey Circus, all of whom left their mark on the area.
Or, if you want to go further back in time, you can search for sharks teeth on the beaches. Venice has three beautiful Gulf beaches: Casperson Beach, Venice Municipal Beach, and Brohard Paw Park. The southern two-thirds of nearly-two-miles-long Casperson Beach has been left in its natural state. There are freshwater and saltwater marshes, mangrove areas, tidal flats, and a nature trail that has been developed through a coastal hammock area. The rest of the beach is quiet, away from hotels, businesses and residences. Venice Beach draws a large number of beachcombers looking for fossils and shark's teeth. Scuba divers also like to explore the coral reef located a 1/4 mile from the coastline. Brohard Park has a 740 foot-long public fishing pier with rest rooms, snack bar, and bait shop. There is also a fenced area with a drinking fountain, showers, fire hydrants, and leash posts -- for dogs! Yes, a 300-foot section of the beach is for dogs only.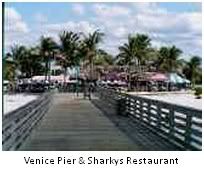 Venice provides an abundance of unique fishing opportunities, whether fishing from the pier or out of a boat. Fishing is a year-round sport; as the seasons change, so do the many species of fish that move through the waters. Expect to catch Sea Trout, Redfish, Snook, Sheepshead, Cobia, Flounder, Spanish mackerel, King mackerel, Barracuda, Shark and Mangrove snapper.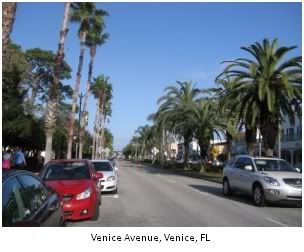 In 1926 a city planner laid out a general plan for the development of Venice, featuring six subdivisions with broad curvilinear streets with landscaped medians, distinctive public parks, recreational areas reserved for public use, and zoning for residential, commercial and government land use that remains in effect today. Preserving the original character of Venice, the city created the Historic Venice District to ensure that new construction and modifications conform to the northern Italian renaissance style of the city's original architecture. Today Venice is enjoying community growth at a relatively slow rate, radiating out from the center of Venice.
Venice has two scenic paved trails. With nearly year-round perfect weather, outdoor enthusiasts can enjoy over 20 miles of peaceful views and smooth riding. The Rails to Trails project added 10 miles of paved recreational trail from a former railroad corridor. Seven trail heads offer access points with free parking. The Legacy Trail on the southern end begins at the Venice Train Depot where you can park for free. The paved route crosses two beautiful waterways and runs through Oscar Scherer State Park. The Venetian Waterway Park (42 acres) offers benches, litter receptacles, dog clean-up stations, picnic shelters and grills, scenic ICW views and glimpses of wildlife along the 10-mile long, 8-foot wide linear trail for walkers, joggers and bikers. Much of it is available for use now. No motor vehicles allowed.
Venice has more than 30 parks. A few of them are described here:
Brohard Park (67 acres) includes Service Club Park, the Venice fishing pier, Maxine Barritt Park, Paw Park, and South Brohard Beach. Amenities include handicap accessible boardwalks, benches, showers, picnic tables, restrooms, parking, picnic pavilion, and free fishing. At the Venice fishing pier sunsets, bait shop and fishing are the attractions here. Individuals fishing from the 700-foot long pier are not required to have their own fishing license. Nearby are six picnic shelters, two sand volleyball courts, public restrooms, pavilion and a restaurant. It is open at all times; no charge.
Centennial Park (4 acres) has a gazebo, parking lot, picnic tables, benches, restrooms, a memorial to veterans, Venice Main Street information kiosk and an interactive fountain in an area sometimes used for special events. The fountain is open from 9:30 a.m. - 9:30 p.m.
Chuck Reiter Park (9+ acres) has four lighted baseball fields, batting cages, food concession, restrooms and playground. It is the home of Venice Little League.
Hecksher Park (3 acres) has two tot lots and one child-scale playground, six tennis courts, two basketball courts with six nets, two racquetball/handball courts, 18 shuffle board courts, all with lighting for night play; also, picnic tables, shelter and restrooms.
Marina Park & Boat Ramp (3 acres) hosts the public boat launch into the Intracoastal Waterway, benches, restrooms and views of the ICW.
Maxine Barritt Park. Its large picnic pavilion affords one of the most beautiful gulf views in the area. The park has walking trails, restrooms and plenty of parking. It is adjacent to Paw Park on one side, and Sharky's restaurant the Venice Fishing Pier on the other.
Patriot's Park (3.5 acres) has a paved courtyard dedicated to veterans of world wars, police, firefighters, the fallen of 9/11 and heroes everywhere; flag display, restrooms, picnic tables, benches and litter receptacles.
Venice Municipal Beach received the 2008 Best Restored Beaches Award presented by the American Shore and Beach Preservation Association. The beach features parking, food concession, shelter, two sand volleyball courts, picnic area and boardwalks.
Venice Myakka River Park (10 acres) features canoe/kayak launch, picnic tables, restrooms, playground and nature trails.
Wellfield Park (160 acres) has three football fields, three soccer fields, two softball fields, three baseball fields, batting cages, disk golf, croquet club field and restrooms. Adjacent Pinebrook Park has two lighted tennis courts, a basketball court and fitness/nature trails.
West Blaylock Park has an arboretum, sidewalks, shade trees and gazebo in area sometimes used for special events. The arboretum names many types of palm trees and is decorated by Venice Area Beautification Inc. for the holidays. Venice has been listed in many publications as being the "Shark's Tooth Capital of The World". It hosts an annual festival, the Shark's Tooth Festival, every year to celebrate the fossilized shark's teeth that can be found on its coastal shores. The population of Venice is approximately 21,000, and the median age is approximately 68 years. The median household income is approximately $45,000, and the median house price $225,000.